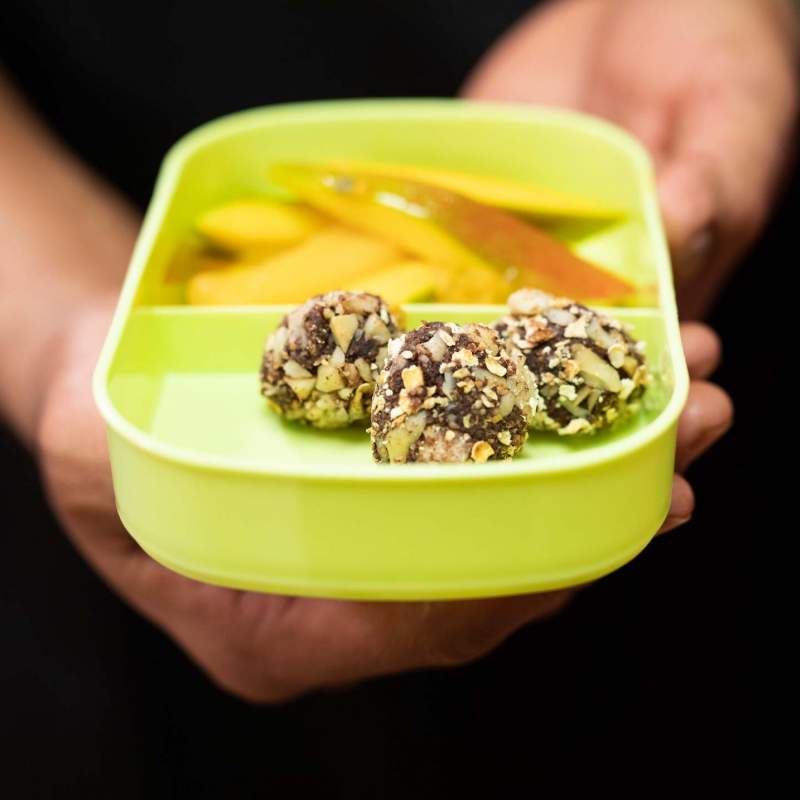 Krystelle and Pio's Vudi Chips and Chocolate Balls
TEAM FIJI
INGREDIENTS
For the Chocolate Balls:
1 cup of pitted Dates (pre-soaked in hot water for 20 mins to soften)
1 cup of homemade Peanut Butter (See recipe below)
1 cup Oats toasted with 1 tablespoon Virgin Coconut Oil and 3 tablespoons Honey
1 cup toasted Coconut
1 cup Coconut Flour
Rolling mix (reserve 3 tablespoons of toasted oats with 1 cup of roughly chopped Vanuatu almonds or nuts of choice)
For Homemade Peanut Butter for the Chocolate Balls:
2 cups of roasted Peanuts without their skin
8 tablespoons Virgin Coconut Oil
1 teaspoon Honey
1 teaspoon Cinnamon Powder
Pinch of Salt
For the Fruit Mix:
2 cups of Water
2 Hibiscus Flowers
2 Cinnamon Sticks
Skin of 1 Pineapple
1 tablespoon of Honey
2 Star Anise
Fruit to poach
½ Pineapple (cut into large wedges)
2 Fresh ripe but firm Mango cut into strips (skin on)
For the Kumquat Passion Dressing:
2 tablespoons Honey
1 Passionfruit (pulp)
3 Kumquats
Salt and Pepper
METHOD
For the Chocolate Balls:
Combine dates, peanut butter, ¾ cup of toasted oats, coconut, coconut flour, form into small balls and roll in the rolling mix until well covered.
For the Homemade Peanut Butter:
Blend everything well
For the Fruit Mix:
Poach fruit in the poaching mix for 5 minutes-you still want the firmness of the fruit so be sure not to poach for too long.
For the Dressing:
Mix all ingredients in a bowl with a whisk.
Toss the poached fruit into this mixture. You can drain the fruit from this dressing or leave it on the fruit, be sure to place this in a separate container in the lunch box.
To Serve:
Put the Vudi chips, Bliss Balls, Fruit Mix into small containers for a colourful, healthy and delicious school lunch.
Team Fiji Recipes Krystelle and Pio
Other Recipes you Might Like