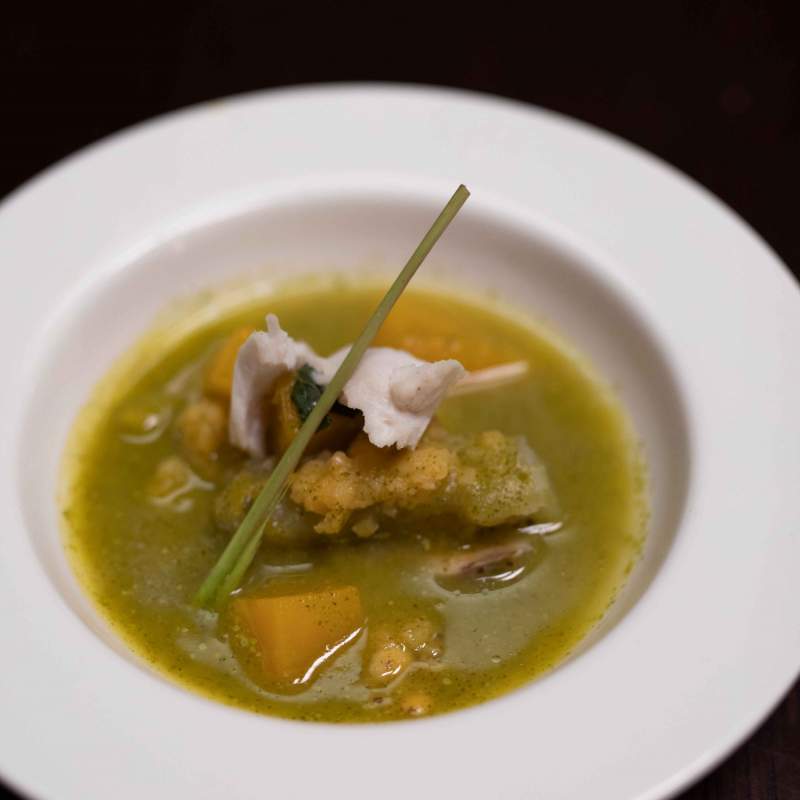 Shamim and Manasa's Mum and Baby Soup
Team Fiji
INGREDIENTS
Ingredients for the Fish Broth:
1 fish head
1 onion
1 thumb ginger
3 brown coconut water
Ingredients for the Mussel Broth:
1 kg fresh water mussel
1 lemongrass stalk
1 thumb ginger, chopped
½ onion, rough chopped
A few coriander roots, washed and rough chopped
Ingredients for the Soup:
¼ pumpkin
6 bele leaves
1 plantain, ripe
½ cassava
1 fillet fish
200 grams kumala
1 pce star anise
½ cinnamon stick
1 lemongrass
METHOD
Place fish head with onion and ginger in a pot with brown coconut water
Bring to boil then simmer for 20 minutes
In another small pot, boil mussels with ginger, lemongrass, coriander roots and onion
Then simmer for 15 minutes
Strain stocks well, mix together and set aside
Grate cassava and peel and cut plantain into thick slices
Add half a litre of broth together with cassava and bring to boil. Simmer for about 15 minutes then add the bele. Blend this mix until smooth and taste for salt and pepper.
Boil pumpkin in water with star anise and cinnamon for approximately 10 minutes or till soft.
Boil kumala with star anise and cinnamon for 10 minutes, once cooled cut into batons. Toast lemongrass stalk and set aside. Poach fish in broth for a few minutes and then serve broth with chunky pumpkin, kumala batons, shredded fish and lemongrass sticks for baby to chew.
Team Fiji Recipes Shamim and Manasa
Other Recipes you Might Like