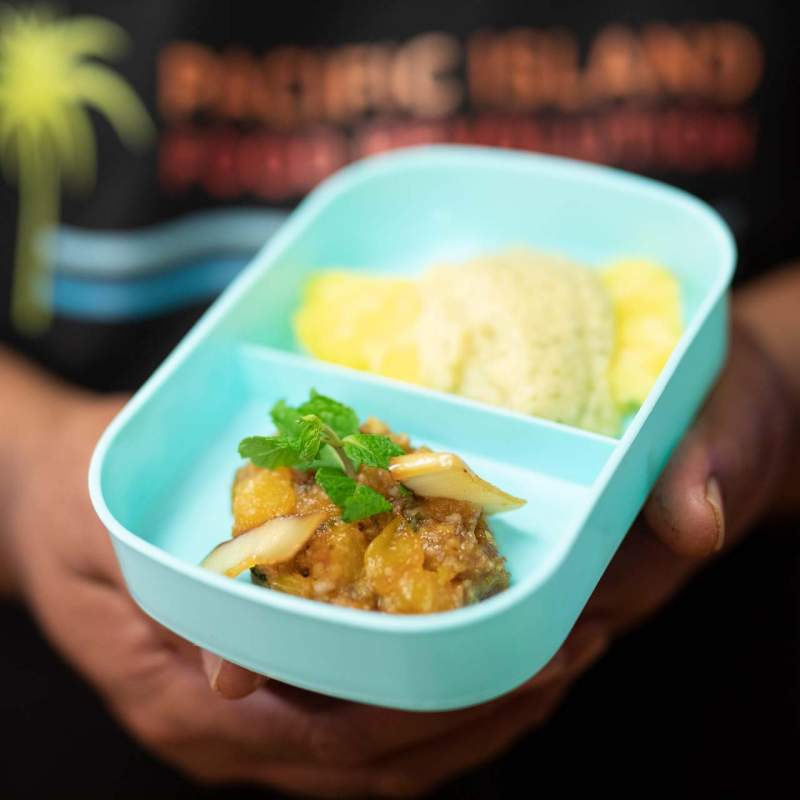 Tino and Teuila's Mango and Nangai Seed Muesli Bars, Samoan Frittata and Minted Yoghurt
TEAM SAMOA
INGREDIENTS
For the Muesli Bars:
1 cup firm but ripe Mango (peeled and diced)
½ bunch of Mint
½ cup of local Honey
1 cup of roasted Nangai seeds or almonds (roughly chopped)
For the Samoan Frittata:
1 Plantain ripe but firm (Precooked sliced lengthways)
100g Fish Fillet
10 cups chopped local greens (Pele, local Spinach)
1 cup of Tomatoes (diced)
10 Eggs
2 tbsp. of Vegetable Oil
Salt and Pepper
For the Minted Yoghurt:
1 cup Soursop flesh (no seeds)
1 cup diced Mango (peeled)
1 handful of fresh Mint Leaves
½ cup Green Coconut Juice
1 Green Coconut flesh (aano)
½ cup of roasted Ivi (ifi)
1 Lemon
2 tsp. Honey
METHOD
For the Muesli Bars:
Slowly heat the honey in a pan and reduce to ½.
Add the mango and stir gently so that honey caramelises the Mango.
Add the nuts to the mixture.
Slowly stir while on the heat until it looks dry then take it out of the pan.
Once the mixture has cooled roll into balls and then press them flat not too hard and put in the fridge to set (also nice frozen).
For the Frittata:
Grill the fish and flake into small pieces.
Sauté all the chopped greens and tomatoes in the oil (don't over-cook them).
Whisk the eggs in a large bowl and add the sautéed vegetables.
In another smaller solid fry pan, put a layer of sliced plantain then add half of the eggs and greens mixture as a layer next add the fish and put another layer of the egg mixture to top the frittata.
Put the pan in the oven and bake for 20-25 minutes or until its set.
Once ready let it cool and cut into lunchbox sizes to enjoy.
For the Minted Yoghurt:
Blend all of the ingredients using a stick mixer or blender until smooth. As easy as that, just put into a container for the lunchbox.
Team Samoa Recipes Tino and Teuila
Other Recipes you Might Like