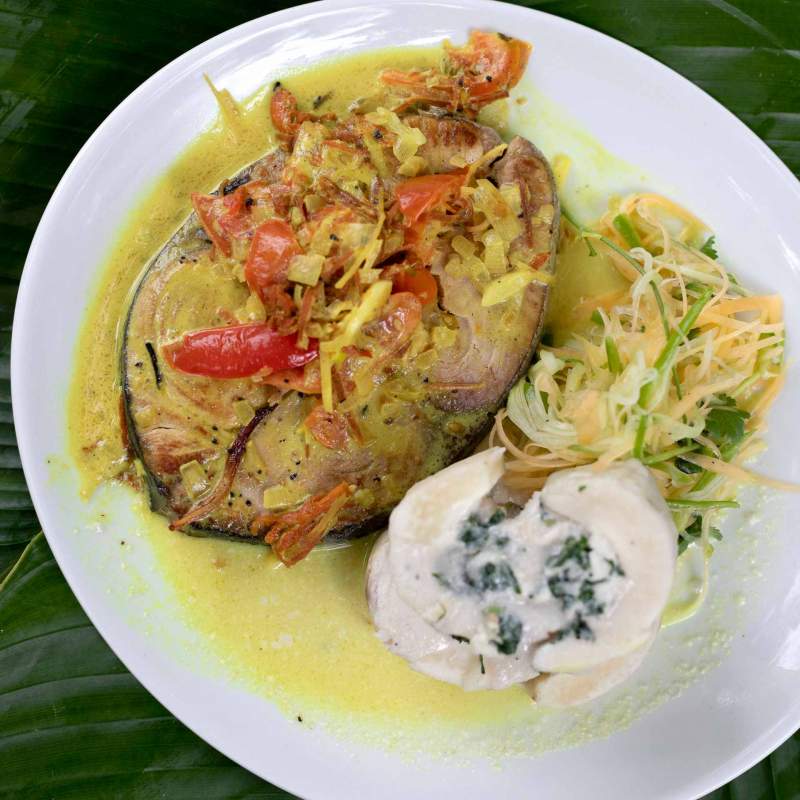 Knox and Leo's Sweetheart Taro with Turmeric Tuna and Island Boys Salad
Team Vanuatu
INGREDIENTS
Ingredients for the Sweetheart Taro:
2 Fijian taro
4 dry coconuts
5 leaves island cabbage
¼ cup toasted nangai nuts
4 small onions diced
1 bulb garlic crushed
Ingredients for the Island Boys Salad:
1 cucumber
1 green papaya
1 tbsp coriander
1 cup grapefruit juice
1 ½ tbsp lemon juice
1 tbsp virgin coconut oil
Ingredients for the Tuna and Turmeric Sauce:
2 tuna steaks
1 tbsp grated fresh turmeric
2 small onions diced
1 tbsp ginger minced
2 tbsp garlic minced
200g cherry tomatoes
1 cup coconut cream
1 tbsp virgin coconut oil
Seasoning (salt and pepper)
METHOD
Method for the Sweetheart Taro:
Grate coconuts and squeeze for coconut milk.
Pour ½ cup of coconut milk into a pot and reduce on low heat until thickened.
Peel taro, wash and cut in half.
Remove the inner core of the taro out with a spoon, grate and reserve for stuffing (see below).
Chiffonade cabbage and fry with onion, garlic and 1 tbsp coconut milk.
Season.
Reserve remaining coconut milk for the sauce.
Mix grated taro with toasted nangai nuts and fried cabbage.
Add a little coconut milk to bind mixture.
Season with salt and pepper.
Use the grated taro mixture to stuff halved taro.
Tie taro together in its original shape and place in saucepan.
Add coconut milk and a little water, simmer for 45 minutes.
Turn taro every 10 minutes so it doesn't stick and cooks evenly.
Method for the Island Boys Salad:
Peel papaya and cucumber, then grate both.
Squeeze dry, then add coriander, season with salt and pepper.
Set aside.
For the dressing squeeze lemon and grapefruit juice.
Add coconut oil and set aside.
Method for the Tuna and Turmeric Sauce:
For the sauce, heat coconut oil in a pan.
Add turmeric, ginger, garlic and cook till soft.
Pour in coconut cream and boil.
Add sliced tomatoes then remove from heat and set aside.
Season with salt and pepper.
Season the tuna steaks and sear in a clean pan with a little virgin coconut oil.
Cook about 3 minutes on each side, until medium rare, longer if you prefer medium.
To Serve:
Place cooked tuna on plate and top with the turmeric coconut sauce.
Slice cooked stuffed taro and lay slices on plate and a little of the papaya cucumber salad.
Yes! There's Vanuatu on a plate.
Team Vanuatu Recipes Knox and Leo
Other Recipes you Might Like