Josh and Nox's Tutu Ika with Pekepeke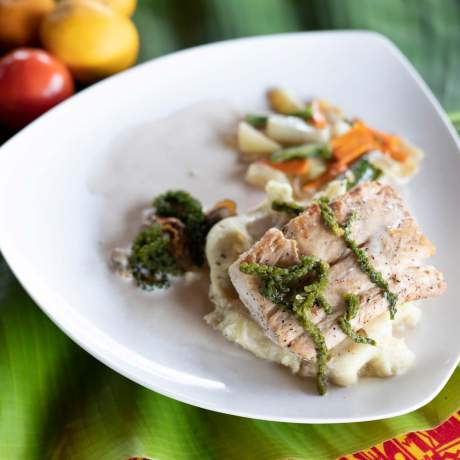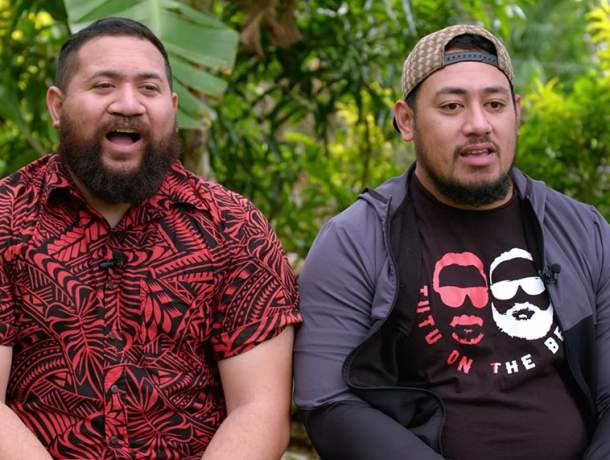 Ingredients for the Tutu Ika:
2 x 200g mahimahi steaks (or tuna is also good)
2 garlic cloves, crushed
1 onion, finely diced
½ cup virgin coconut oil
2 lemons, juiced
Salt and pepper for seasoning
2 kaloa'a (shellfish – mussels or cockles would work also)
2 to'o (shellfish – mussels or cockles would work also)
A few sprigs of limu to garnish
Method for the Tutu Ika:
Mix crushed garlic, diced onions, coconut oil and lemon juice together in a bowl.
Add fish steaks, marinade and stand for 15 minutes.
Grill marinated mahimahi on BBQ for 5 minutes each side.
Bring a small pot of water to the boil, add kaloa'a and to'o till until the shellfish open.
Set aside.
Ingredients for the Pekepeke:
1 breadfruit (ripe)
1 tsp virgin coconut oil
Salt and pepper to season
Method for the Pekepeke:
Place whole breadfruit on open flame, turn as needed, until the entire skin is black.
Remove breadfruit from the flame and peel.
Then mash the peeled breadfruit using another breadfruit (or masher).
Season and add coconut oil - the oil keeps it from sticking.
Season and set aside.
Plating:
Place pekepeke on plate with fish steak on top.
Top with kaloa'a and to'o.
Garnish with limu (seagrapes) and lemon.
Serve with stir-fried vegetables.
Team Tonga Recipes Josh and Nox
Share this page: Facebook LinkedIn Pinterest Twitter
Tried this recipe at home? Let us know what you think!