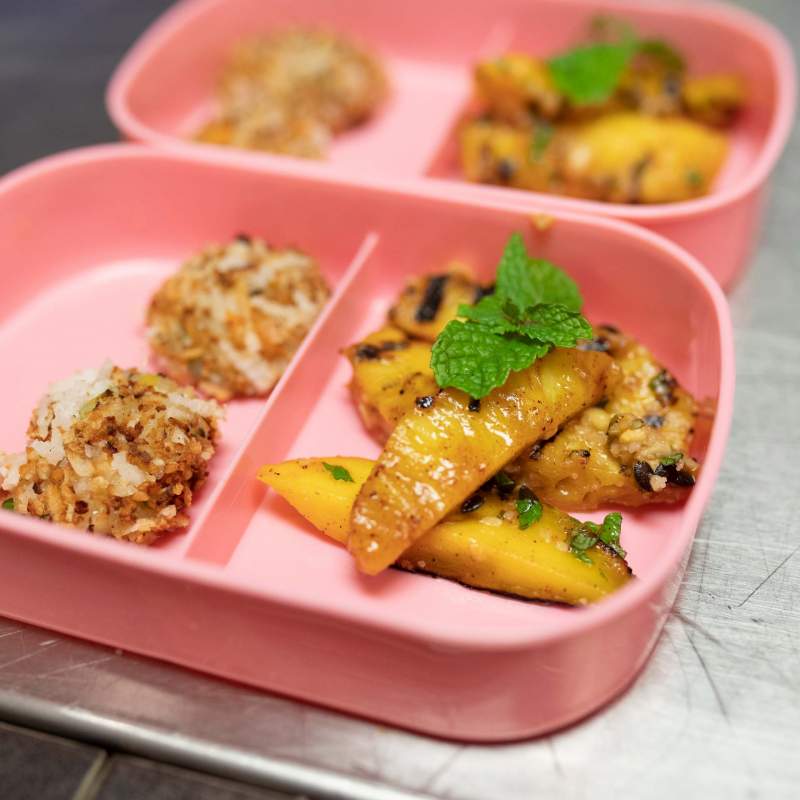 Mafi and Mia's Fakalate Cassava and Grilled Fruit Snack
TEAM TONGA
INGREDIENTS
For the Fakalate Cassava:
150 g Cassava
2 tbsp Carrots (finely diced)
Ginger, 1tps (minced)
Onion, 1tps (finely chopped)
Coconut Milk, 400mls
Brown Coconut Flesh (grated)
For the Grilled Fruit Snack:
1 Mango,
½ Pineapple
½ tsp. Cinnamon Powder
1 Vaine (Passionfruit)
1 tbsp. Honey,
Juice of ½ Lemon
1tbsp. Water
Handful of crushed Nuts (whatever you have in the cupboard)
10 Mint Leaves
METHOD
For the Fakalate Cassava:
Peel and grate cassava then put into a pot with coconut cream to simmer, stirring constantly.
Add the finely chopped vegies and season with salt and pepper.
Continue stirring until its thick, keep adding coconut milk if needed.
When cooked take out and spread it on foil to cool down.
Make roasted coconut by putting fresh grated coconut flesh in a hot pan and keep cooking until its brown.
Make ball shapes with the fakalate cassava then coat by rolling in lots of roasted coconut.
For the Grilled Fruit Snack:
Cut the mango and pineapple into long strips.
Coat with cinnamon powder and grill until golden.
Make the glaze by mixing vaine, honey, lemon juice and water in a pan.
Mix the glaze through the grilled mango and pineapple, add mint and chopped nuts.
To Serve:
Put in containers for lunchbox and enjoy Tongan school lunch.
Team Tonga Recipes Mafi and Mia
Other Recipes you Might Like