John and Asia's Tefiti Salad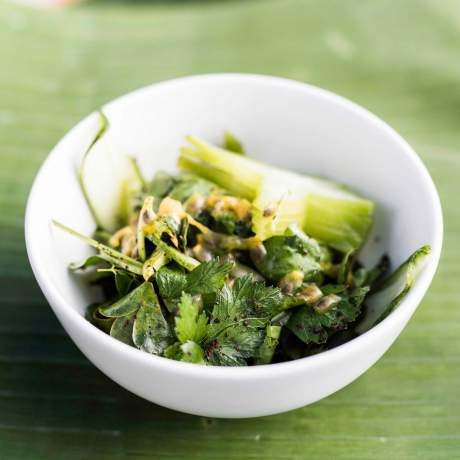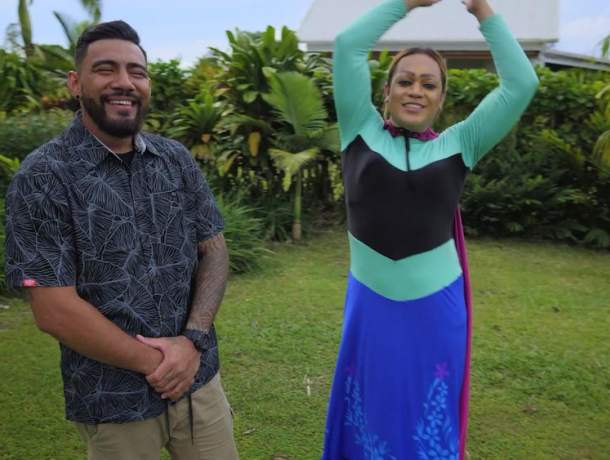 Ingredients for the salad:
½ bunch watercress
1 cucumber
10 leaves coriander
5 taro leaves
5 chilli leaves
1 piece spring onion
3 tbsp coconut cream
Ingredients for the dressing:
2 teaspoons avocado oil
1 passionfruit
1 tsp sugar
1 lime
Ingredients for garnishing:
1 star fruit, mango, pineapple or pawpaw
Method:
In a medium pot bring water to boil.
Add taro leaves and chilli leaves, then boil for 20 minutes.
When done, drain and add a little coconut cream.
Set aside to cool.
Remove leaves from stalks of watercress and place in a bowl.
Peel cucumber, slice, and add to bowl.
Roughly chop spring onion and add to bowl.
Add cooled taro leaves and chilli leaves.
Make sure to separate the individual leaves as they make stick together in a clump.
For the dressing, squeeze the juice of one lime into a bowl.
Cut passionfruit in half and scrape the flesh into same bowl.
Add avocado oil, and sugar and whisk thoroughly.
Mix all the greens together.
Dress and garnish with a slice of starfruit.
Team Samoa Recipes John and Asia
Share this page: Facebook LinkedIn Pinterest Twitter
Tried this recipe at home? Let us know what you think!